Loco Unveils 2016 Surfing Range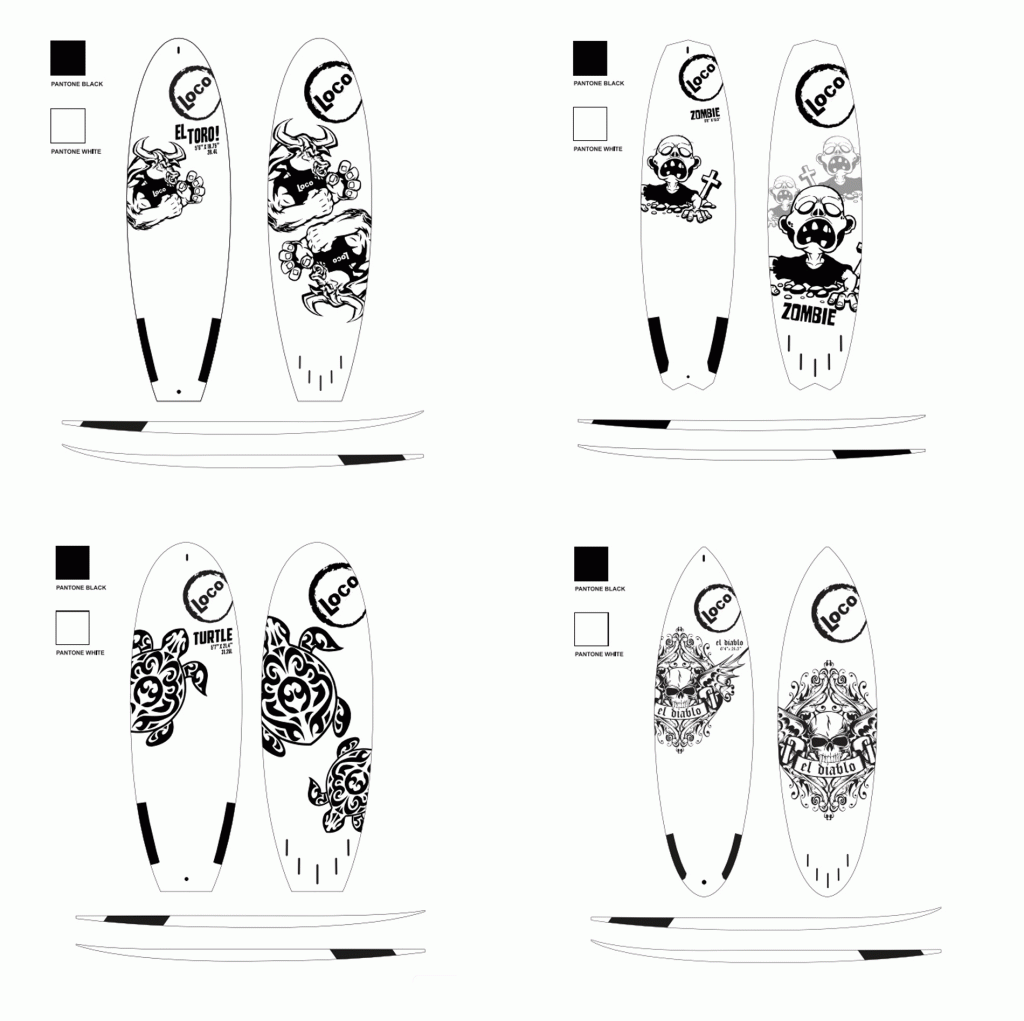 El Toro 
The El Toro is a new shape for 2016 and has similar shape characteristics to FireWire's Nano but we've decided to make a few tweaks to the hull dynamic to make it more suitable to European conditions. These boards can be ridden shorter than you'd expect and really come alive under skilled feet. We're offering them in 6'0′ down to 5'3" in a lightweight epoxy sandwich construction with carbon heel bumpers.
The Zombie
This was a firm favourite with our riders last year offering a fast electric riding sensation within a short compact outline. Typically these boards can be ridden 6" shorter than a normal thruster which really promotes radical turning in the pocket. They also excel on the backside, snapping vertical turns is now standard! They feel more skateboard than surfboard. Again supplied in our lightweight epoxy sandwich with the carbon heel bumpers we have these in 6'0′ down to 5'4" which covers 90% of intermediate to pro riders weights.
The Turtle
The Turtle has replaced last year's 'magic whale' and is loosely based on a Dane Reynold's shape. This board is a really fun shape in the smallest size for more advanced riders and makes a good alternative to a minimal for improvers in the 5'7" and 5'10". Why ride a 7'6" when you can get going just as quick on one of these and turn it more radically aiding your journey to becoming a surf rock star? Again supplied in our bulletproof and lightweight construction in 5'4" / 5'7" / 5'10".
El Diablo
The El Diablo has been developed for those riders looking for a more traditional kind of rounded tail thruster over a progressive short stick like the El Toro or Zombie boards in our line up. Again the weight to durability ratio has been dialled in and with 6'10" 6'4" and 5'10" in the line with a bit of extra volume these boards are set to delight intermediates and give advanced riders an alternative for those slacker wave days. We have a couple of narrower version available for any wannabe ambassadors or riders looking to join our team.
All the boards are now available to pre-order for individuals, shops and hire centres. Please contact Joe directly to discuss your preferred ride or rides on 0191 4206921 / 07779 127230 / info@loco-sup.com and he'll make sure you're one of the first to get  a 2016 Loco surfboard under your feet. Delivery will be Sept/Oct just in time for the swell season proper.
#LocoUnveils2016SurfingRange #ThinkSurfThinkLoco
---