Loco Endurance iSUP Racing At The Dordogne Integrale In France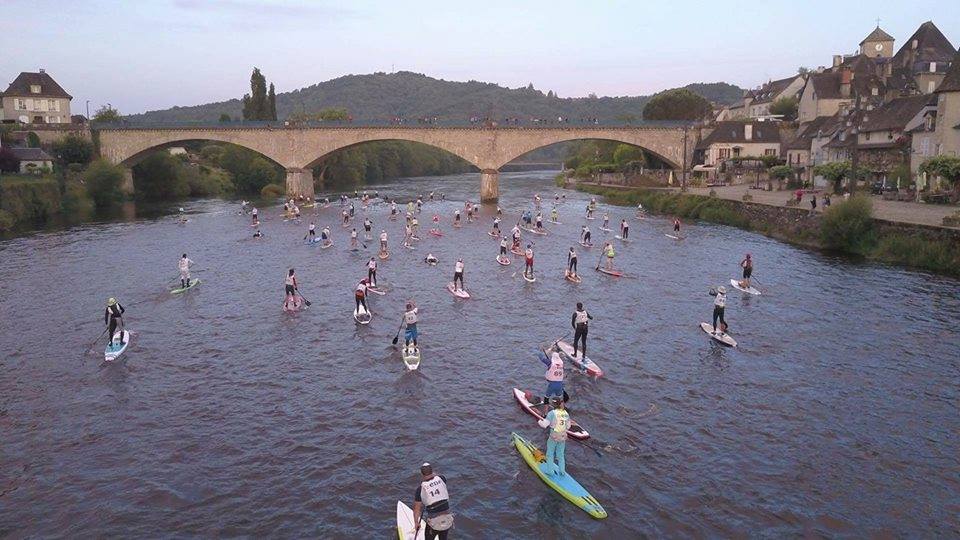 The Dordogne Integrale is France's` longest SUP race at 130 km (80 mile ) and is held every year. Its also open to most forms of paddle craft. It starts at the town of Argentat and generally heads downstream South West to Castelnaud. Over 300 craft entered in 2017 with 100 of them being SUPs. Being such a long established race its very well organised with pre-race meals and briefs, transport to and from either end of the race, camping, post race meal,entertainment and numerous food/drink stops along the way all included in the price.
I chose to ride the 12`6 Loco Motion Air over the 14` Motion Air or hardboard more for logistical reasons than anything else. Flying to the race steered me towards inflatable and 12`6 over 14` based purely on the fact it was enclosed water so wasn't expecting too much "wave action" and the food/water stops negated having to carry too much equipment so less buoyancy required.
Starting at 0600 morning meant an early ( 0430) start to pack up the tent and float down the river to the start line . They choose an early start to allow a maximum number of finishes to arrive at Castelnaud before the sun goes down when they have to start pulling people of the river- so effectively about 15 hours to complete the 130kms. Although this sounds like a daunting figure much of the river is flowing making it seems less distance , although it didn't feel like it at the time. The mass start of SUPs set off with many well known internationally acclaimed paddlers heading straight for the front  attempting to go sub 10 hours, my main aim was to finish and so the competition for me was with the river and my mindset rather than anyone else.
The river is a mixture of deep flat water sections, shallow fast running weed and stone sections with the occasional weir and grade 2 rapid which can either be negotiated by portage or riding it out either stood up or knelt down for stability. I opted to kneel on many sections due to the "no leash "rule which had the potential to cause a race ending situation should you fall off and not be able to catch up with your board in some of the gorges where running along the bank to retrieve the board wasn't an option.
Prior to the first water stop I incorrectly chose a route down a navigable weir striking my fin hard . It wasn't until I got out to portage at 25kms that a Frenchman pointed out to me my fin was just held on by the brass pegs in the fin box groove. The brass nut had completely been ripped out the fin spine trashing the hole at the same time. After consulting with my inner chimp I decided to crack on to the next fuel stop ( 22km further down river) to see if my semi retracted , semi efficient fin was a workable option or not. A combination of having at least a small amount of fin left and the Loco Motion rails meant in moving water I didn't seem to be travelling any slower or any less straight but the flat sections proved a physical and mental challenge but at least nobody wanted to draft me zigzagging down the flat water sections .  The downside was I also ended up stopping regularly to remove the weed that was being collected by the spine of the fin at a downwards angle.
The scenery and amount of leisure paddlers on the river plus the fact there aren't many straight sections meant time seemed to pass quicker than I anticipated and 5 water stops later, and 110km after the fin incident the Loco Motion 12`6 and I ( not forgetting the semi efficient fin) crossed the finish line at Castelnaud in a race time of 13 hours 23 with a moving time on my Garmin of just under 12hours 30mins- which was still about two and a half hours behind the SUP leaders !
Being twice as far as any other distance I have ever paddled in a day I learnt a fair bit about "river craft" , hydration/food strategy and the potential to carry a spare paddle and/or fin next time …..did I say next time…..yikes !
---