Witness the Fitness with the Loco 12'6" Race Tourer Stand Up Paddle Board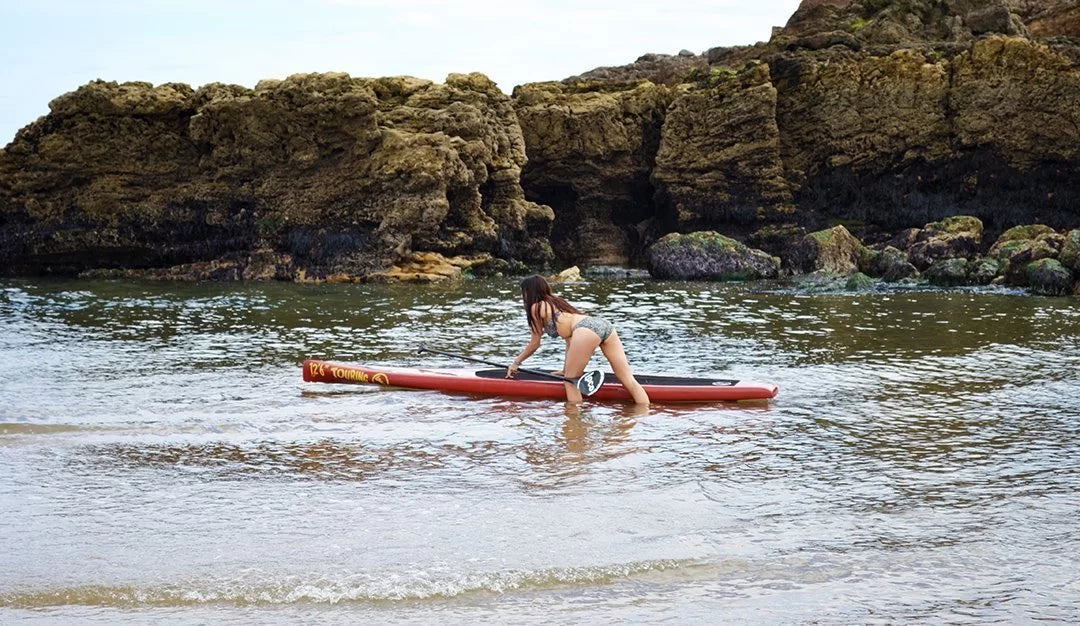 So after a little sustained negotiation with SUP International Magazine we managed to secure a feature for our 12'6" Race Tourer for their summer edition of the mag. Joey T had already responded to some interview style questions on the Loco touring stand up paddle outline but as with all mags they wanted some high quality images so in true Loco last minute dot com style the team headed down to South Shields beach yesterday to meet up with a couple of girls, one semi-regular stand up paddler (Sally) and one complete SUP newbie (Erin) who was keen to find out more about paddle fitness and racing.
Having used some of our Loco boards before Sally was surprised by how light the 12'6" Tourer was compared to her favoured 9'5" hire board which has nearly half the volume! Despite being a little nervous about the displacement hull and the obvious footwells she jumped on and was up straight away easily negotiating her way out through the 1′ dribblers.
With a little encouragement and some incisive tips from Joe, Erin was soon stood up and negotiating her way through the small waves and headed out back. With a background in distance running and amatuer boxing she's certainly one to watch for Loco's medium-term race programme. Stay tuned for more from Erin as she develops her skills over the summer!
As you can see from the photos the tourers come in an array of attractive colour with that dark wood deck reminiscent of a 1950's Riva more suited to Venice than 'sunny' South Shields. The metallic blue was a favourite with the girls closely followed by the cream then the red but each to their own eh?! Despite the water temperature it was difficult getting the girls back to shore for some product shots as they were having so much fun gliding around on a rare North Sea mill pond.
With Tynemouth's beautiful Priory in the background it's no wonder the girls were finding it hard keeping focussed on 'tasks'. If Joe hadn't have been there we suspect they'd have been off round the corner and down to Roker Beach in about 20 mins flat! So we asked them both what they liked about the boards and were truly stoked with their feedback. Sally having tried an iSUP a few months ago concluded there's no substitute for a hard board, she felt more planted, glide was better and the board tracked properly. Erin didn't have much to compare her first time on a SUP with but was surprised how quickly she was up and paddling and feels confident that she can make fast progress in competitive racing!
Now who can resist a couple of toned bikini girls splashing around in the shallows? It soon got competitive and it was obvious that our carbon wave paddles were just as proficient at 'throwing spray' as generating instant power! It's days like this that can be really taxing  on the team but the girls seemed to enjoy themselves anyway.
Ok so you've seen the snaps of our race touring outline which is perfect for entry level racing, fitness, cruising and even fishing so if you like the aesthetic it's just down to choosing your preferred colour now.  If you're quick we even have a couple of ex demo boards going with £200 off RRP!  Be sure to give us a call on 0191 4206921 to find out more.
#BlastOff
#LocoRaceTourer
#LocoFitness
#LocoAcademy
---