Loco's SUP Surfing Review of Las Americas, Tenerife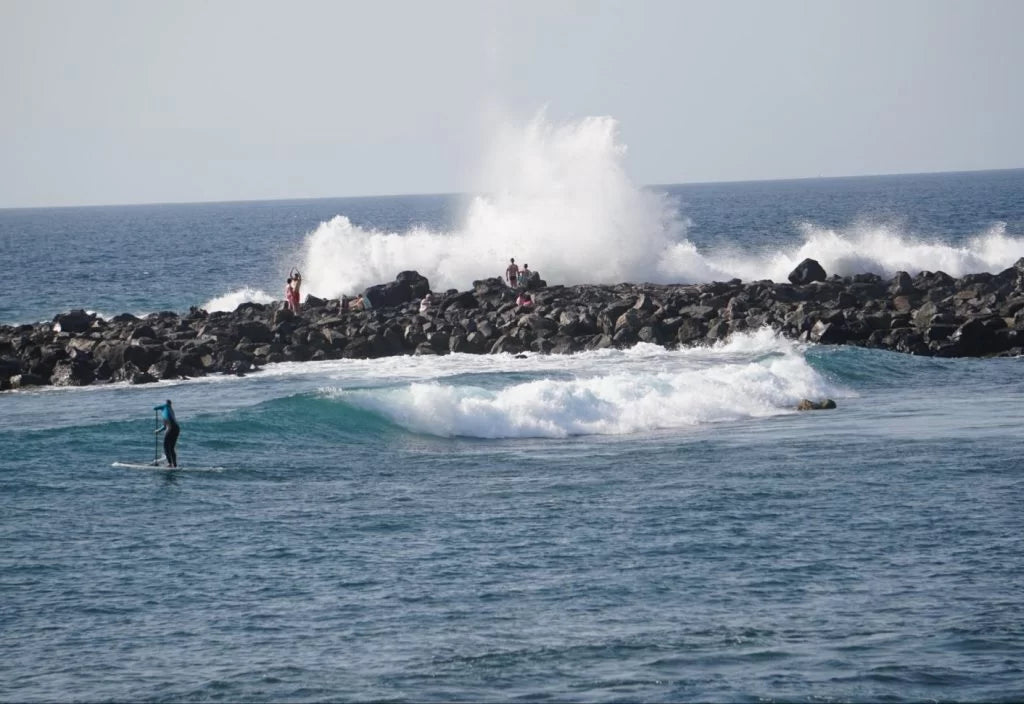 As most of our fans will already know Loco boss Joe usually jets off somewhere sunny for some winter waves when the UK SUP season quietens down. Having visited the brand's spiritual home in Fuerteventura numerous times, ticked off Morocco and Portugal in recent years Joe was looking for somewhere new to explore and with a lack of rider availability and some 'family stuff' going on the usual lads trip had to be swapped out for a couples trip but where to go?
After the usual internet trawl he soon discovered that guaranteed sunshine in February is hard to find unless you go long haul which was a none starter with his other half's demanding work regime. So we were back to the usual suspects of Portugal, the Canaries or Cape Verde. There were some cheap flights kicking around to the Canaries so it seemed like the logical option but where to go? Lanzarote's Famara region was top of the list but there was nothing for a none surfing partner to do and a distinct lack of quality accommodation. Don't let that put others off if you're a group of surf rednecks less traumatised by cockroaches and cold showers or have a car to get around its definitely one for the Loco SUP surfing list.
Weirdly enough while 'the search' was in full flight one of Joe's surfing pals from Saltburn was actually over in Tenerife with his family and had nothing bad to say about Las Americas. It has surf on your doorstep, lots of shops, bars and restaurants and more importantly 4* hotels! Subsequently a plan was hatched, flights booked and hotels were perused. A cautionary note regarding Skyscanner though, what was advertised as an 80 GBP return from Newcastle soon bumped up to 270 GBP with Ryan Air with one 20kg bag and hand luggage with the board costing 110 return to take which they 'helpfully dinged' on the way out despite the card, double bubble and board bag and won't pay out on this unless you advise them of the damage at the airport on departing the flight (thus far anyway). Who unwraps their board middle of the airport at 10pm after a 5hr flight? Snide policy or what?!
So arriving in Tenerife we could literally hear the waves crashing from Hotel Tenerife Sol, unsurprising really as it's literally sitting on top of Spanish Left. Joe woke up in the morning and could see prone surfers charging the sucky inside kegs from his room. Magic Seaweed you are now dead to me, he thought! So breakfast buffet devoured it was time for a reconnaissance mission. Out past the pool, through an electronic gate and you're on the prom. The waves were cranking but BUSY was an understatement, 50 guys competing for priority at Spanish Left and about 100-150 more at the largely closing out surf schools / tourist spot a bit further down. After consulting a local Joe was told in no uncertain terms SL was 'locals only'. Not that's ever put the boss man off but it might mean a midweek dawn raid when most of the moody Spanish surfers were at work!
On opening up the board bag there were more pressing issues with a huge ding in the tail of Joe's 9'2" El Diablo so Cinderella would not go to the cranking surf ball, well at least for now. After a quick Google and ring round it looked like Solarez (epoxy version) would be the ding putty of choice. After some glass prep with a penknife (shop owner stepped up) and some sanding paper (included in the 15 euro kit) this stuff is pretty easy to work with once you realise you can't show the tube to warm sunlight at all. After 20 minutes of sticking his hands to the board, extreme profanity, sanding down then repeat the board was starting to look like it might be watertight. Saying that the whole F on meant that it was time for a 3 course lunch and few cheeky beers, the downside of all inclusive, not!
That evening we walked the other way along the prom nearing sunset and Joe noticed some groms bodyboarding a little peak just off a jetty of rocks that jutted out down from Spanish Left. It was about a third of the size but zero crowds. Perhaps this could be the holy grail? No cover shots with the size but what's better than empty waves? More importantly Haley could sit at a table sipping a Pina Colada camera in hand while the boss went about the business of content creation.
The following evening didn't disappoint with some nicely formed peelers coming in from the mid to high tide with just 2 surfers in for company. The takeoff wasn't for the faint-hearted with two slabs of concrete with rusty metal mooring eyes winking at you but once you'd sussed the lay of the hard dingy things you were hot to trot. The one good thing about dinging your board is once it's broken you don't care about breaking it more! Needless to say Joe got braver with his takeoffs and subsequently managed to stay closer to the power zone which meant better turns.
The forecast became a bit changeable with onshore wind spoiling the SUP party but shelter can be found if you head towards Los Cristianos to a beach called Fitenia. In fairness this trip was primarily a holiday so Joe never made it down as it involved about a mile walk with board under arm in 26-28 degrees. That said another couple of sweet sessions were scored at the rocky wave garden, sharing waves with a nice bloke from France riding his Gong with some va va voom!
So would we recommend Las Americas for a SUP surfing trip? The short answer is no as it's mainly a proners location and localism is rife at the spot you'd want to really surf. That said you can hire kit and maybe on a none half term week you might have more scope to charge along the face without playing dodgems with 3 group surf lessons? The location itself is great for a holiday if you're just looking to slope off for a quick surf in between family/girlfriend duties but if you're looking for quiet waves or friendly party wave vibes on a cranking reef there are lots of other places we'd head to first. Can't fault the sunshine over there but if we went back we'd probably explore the North end of Tenerife which we're told has some epic waves but a bit like Famara you need a car to get round and it's probably more geared towards a dedicated SUP/surf trip rather than playing compromise with the family or other half.
Just to rub salt in the wound (apart from the morons at Ryan Air destroying the tail of a brand new El Diablo) there was a heat wave and cranking surf back home in Blighty for the duration of our holiday. Notes to self, never go on holiday at half term, never fly boards with Ryan Air, never book a hotel through booking.com.
More positively the East Coast is fully lit as we're writing this so it's time to sign off and go play in 6-9′ at our local reef that will be empty and cooking on gas!
Loco out…
---