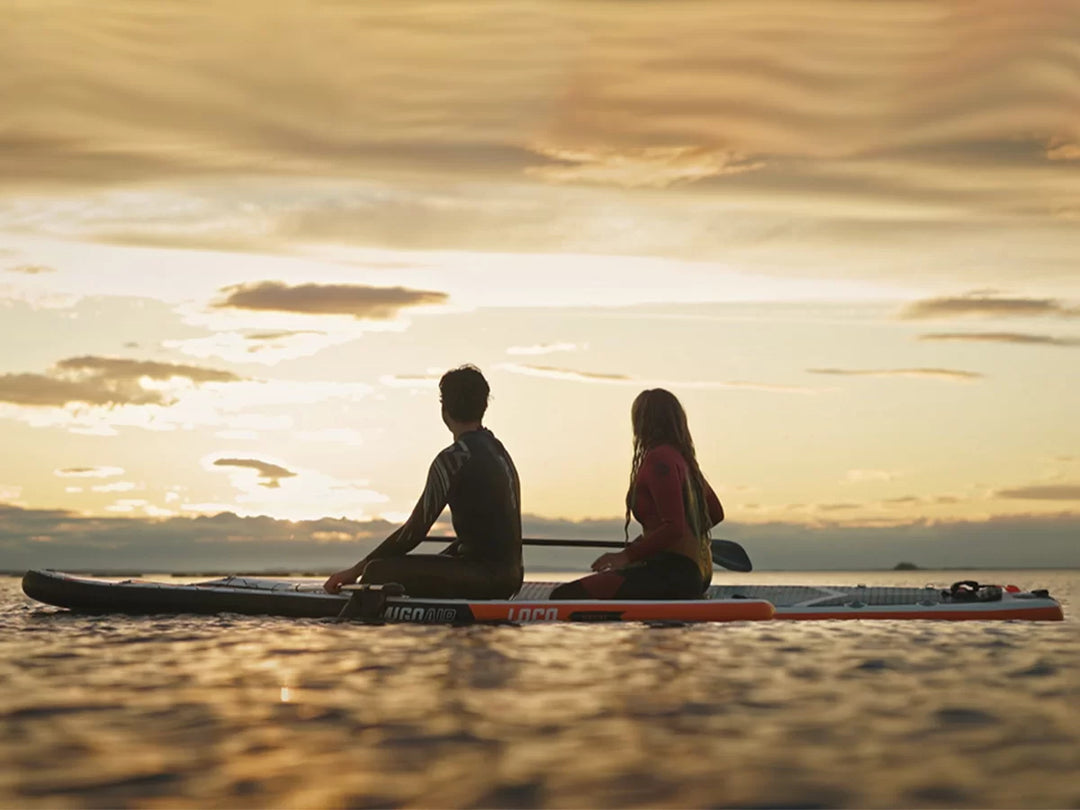 Clear SUP Rail Saver Tape
Regular price
£32.99
/
Tax included.
Shipping
calculated at checkout.
---
FREE UK Delivery / 30 Day Returns
In stock, ready to ship

Inventory on the way
Description:
Careless use of the paddle, especially when you're learning, can lead to unsightly chips and marks on the rails of your boards. The best way of protecting your hard paddle board is to fit rail saver tape. It's supplied in 2 x standard lengths and should be positioned half way up the nose from the front of a 3/4 deckpad and shouldn't go much further back than about 12-18″ behind the centre point (standing area).
To fit the tape it helps if you profile the width with some scissors so that you don't have lots of excess around the thinner nose area. It also helps if you cut it down into 3-4 sections per rail and wet the rail first so you have some play before squeezing out all the air and water. When we do our own boards we straddle the board on a bit of grass rail up and use a garden spray to wet the area then run a finger down the middle of a section before pushing air and water out from one end starting from the already stuck down middle and moving from one end to the other thumbs working out. Once you have all the air and water out (ideally with no crinkles) you 'can' give the whole length a light blast with a hair dryer to 'vac bag' it in place but do NOT leave the direct heat on too long!!
In the event that you need to remove your rail saver it helps if you warm up the glue with a hair dryer a bit first then it should peel back without incident.
Remember the tape has 2 backings so if you notice some coming off it's usually just the top layer you forgot to peel off. A careful tug and you can usually get it all off in one piece.
Keep your rails in perfect condition with our high quality rail saver tape. Price includes 2 x lengths (1 for each rail). See main description for fitting instructions.
Delivery
Custom, Pay For Single Item

Paddleboard Discipline
All-Round, Foiling, Paddle Surfing, Racing, SUP Surfing, Touring, Whitewater, WindSUP, Wing Foiling

Paddleboard Type
Accessory, Board
Shipping is FREE to Mainland UK. If you live outside of the UK or in the Highlands or Islands please contact us via email for a delivery quote including your full delivery address.

Inflatables & paddles ship within 24hrs of receiving your order. Delivery can take upto 3 days for more remote locations but most items are usually there within 48hrs.

Hard boards are hand delivered to avoid unnecessary dings and are collected from us on Fridays and will be delivered the following week. Day and time will depend on your location but you'll receive a call in advance to ensure a seamless handover.

In the event of a problem with your delivery it's within your rights to refuse delivery but we'd urge you to examine the items while the courier is still there and sign accordingly. It's rare for a dented/ripped box to affect an inflatable whereas it's more of a concern with a hard board or paddle. Generally speaking if you sign 'damaged' or 'arrived open' or 'box damaged' this covers us with the couriers' claim process.

In the event that you'd like to return your item you have 30 days. You will be responsible for the cost of the return and your item must be insured to the full retail value and should be returned in 'UNUSED CONDITION' in the original packing so it can be resold. Please return items to Loco, 11 Nelson Avenue, South Shields, NE33 2NJ